0
December 23, 2018 4:43 pm
Mudrunners starts off by introducing you to it through a brief tutorial, and that's exactly what it is…. Brief.
You learn the basics of driving the truck, unlocking others and how to use the winch. You can then either go into a single player mode or do some challenges. I started off with some single player and decided to try that out. I went on the bog map and I have to say that my first go on this game was an experience.
The basic idea is to get a truck through the wilds of America, to pick an object up and then return it, to then have to go out and get more, traversing your way through the worlds again. When I got my copy though, I didn't really know what to expect, diving straight into the single player mode was an experience in itself, there are so many other elements that you're not shown in the tutorial, and I have to admit, the tutorial does say that to you, the game even directs you to try the challenges first to get a better feel for it, but I ignored the warning signs and decided to dive straight in.
I have to say that from doing this I really did through myself into the deep end, there were elements of the game which showed up which I was just looking blankly at and didn't know what to do with. Take damage to the vehicle, this isn't shown to you in the tutorial, but if you go and complete the challenges first, then it's the second challenge along, telling you how to repair and refuel.
Mudrunners isn't going to win any accolades for the looking game on Switch, a lot of the game looks a bit washed out, foliage isn't as crisp as it can be, and the colours are quite dull. Objects in the world such as trees, branches, rocks, and general details sometimes pop as you get to them, and when it's a big rock and you end up smashing into it causing damage to your vehicle, that can get annoying.
This doesn't get much better when you're changing to handheld mode, the games gets all the more blurry and while in docked Mudrunners was fine and run at a decent resolution, handheld mode's resolution seemed to take a nosedive, which was quite disappointing.
One thing I can praise the game for though is the fact that it can seriously give you a sense of achievement once you've accomplished the route you're doing. Yes, the game may be based around fetching and bringing logs back from mills, but the amount of effort that it takes to do it is phenomenal. Most of the time you're going to find yourself stuck in the mud, wading through deep rivers (which if too deep can cause damage to your vehicle quickly.) and using your winch a lot to pull yourself about. It's not just a simple case of driving from A to B, the terrain and everything else plays such a big part and the way your vehicle reacts to it is brilliant, being able to use all vehicle drive on some trucks can be a massive help and as mentioned above, you're going to be using your winch a lot.
The one issue I had with the winch was the fact that when there are loads of trees ahead of you and you know which tree you need to get yourself out comfortably, you go to aim for that tree but the winch will have other ideas and it became so easy to flick to other trees that trying to get the one you wanted was a bit of a chore.
What I liked about Mudrunners on Switch as well, was the fact that all the DLC is here to play, so you're getting the definitive edition so to speak, and there is a lot of content to play for the money you're paying.
I have to admit that this does seem to be quite a niche game, it's not going to be everyone's cup of tea, but if you like a challenge and want to try something different, then I would recommend it, for me it's not one that you can sit back and relax on, it can get quite tense with everything that needs to be taught, but saying that taking it to play on the go and making inroads while you're on the train, bus or any journey would probably be quite satisfying. Overall a very good port!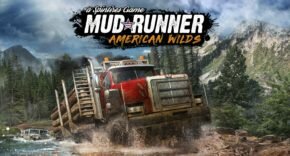 7
Mudrunners: American Wilds
Graphics

7

Gameplay

7

Sound

7

Controls

7