Codemasters promised this years F1 2015 will be the "most immersive Formula 1 experience to date", with a brand new game engine and two seasons worth of races, Season 2014 and Season 2015.
But does it live up to what Codemasters promised us?
Back in 2010 the game was a lot easier to make with no worry about fuel saving, flat marks on the tyes or DRS, we just raced around the track fightimg for that pole position and do the same again next race.
The latest instalment of the franchise is the first to be produced for the new generation PlayStation 4 and Xbox One formats, as well as PC. As with recent editions of the game, what you get is a somewhat idealised interpretation of F1 racing, where tyre wear and so on feature but are not allowed to get in the way of the enjoyment of racing.
F1 2015 has been stripped of almost all extraneous game modes, to the point where the only options are normal or pro mode, Time Attack, a single race, or online multiplayer. Sadly no career mode appears this time around, online co-op, splitscreen mode, season challenges, champions mode, or anything other than the absolute necessary to become a Formula 1 driver. Having no career mode is a huge mistake this year as starting off at the bottom and working your way through the ranks is what F1 2015 should allow us to do and I really dont know why they have taken this away from this years title.
In terms of the actual driving they get things pretty much spot-on and it feels good being behind the wheel. One of the many difficulties with making a Formula 1 game is the balance between realism and accessibility, but Codemasters understandably eager to attract casual fans as much as those that would appreciate a hardcore simulation.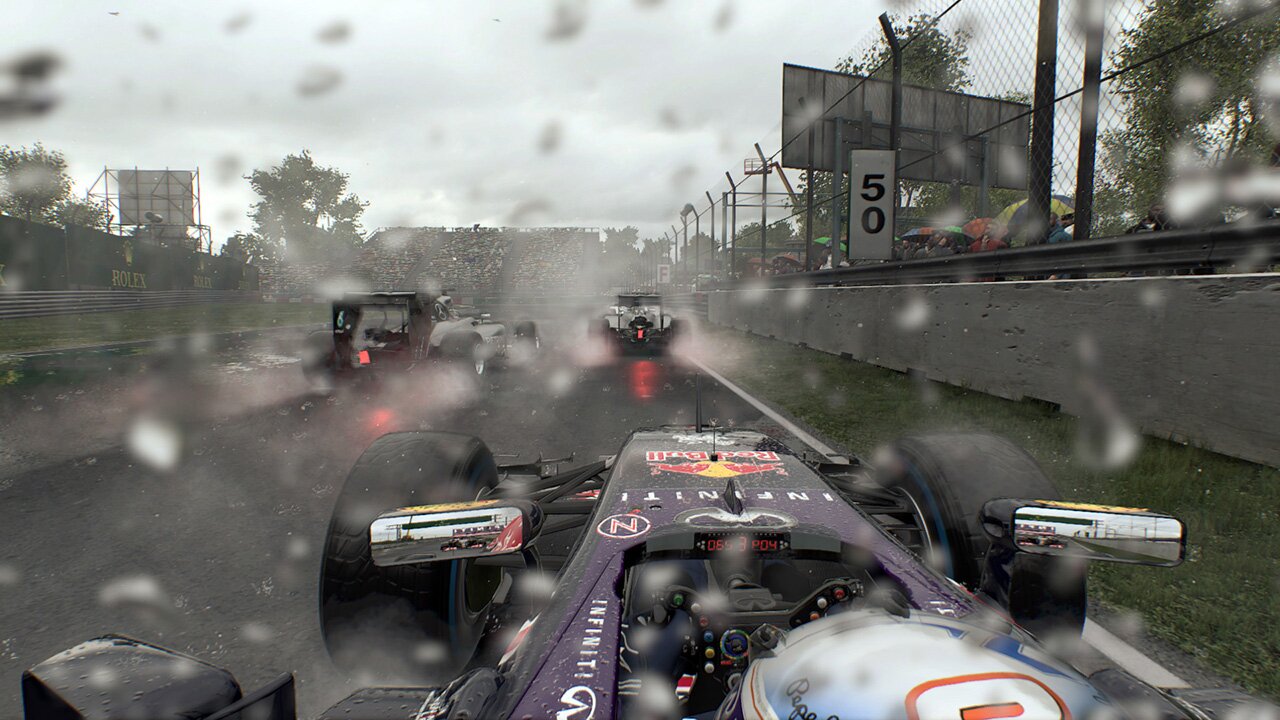 The graphics are polished and it looks fantastic. The vehicle and track models are richer in detail and texture, and under night lights the cars sparkle and shimmer. It runs smoothly too, even when your at Silverstone with typical British weather belting down the spray from the car in front looks great.
The default cockpit view is excellent and puts you right at the heart of the action, with settings and tyre changes for your next pit-stop accessible at a tap of the D-pad. The game's weather effects don't just look great, you can actually feel the effects on grip and traction. Everyone drives a little slower and more cautiously, and becomes more prone to making errors.
Pro mode is where the real challenge is but it's still the same driving model underneath, even when it's forcing you to use manual gears and turn of all the driving assists and use the cockpit view. The have called it Pro mode because you need to be seriously good at handling an F1 car, it really is aimed at fans that are for the more serious racing sims. It is an experience you will either love or hate, we lasted 1 lap and aborted back to the pits as our car was about to be lapped! The Hardcore Pro Championship mode does each race weekend pretty much in full, complete with lengthy practice and qualifying sessions. Even the amateur level of the basic Championship mode expects you to go through a 15 minute practice, a single-lap qualifier and a 14 to 16-lap race, taking roughly one quarter of the time of the real race.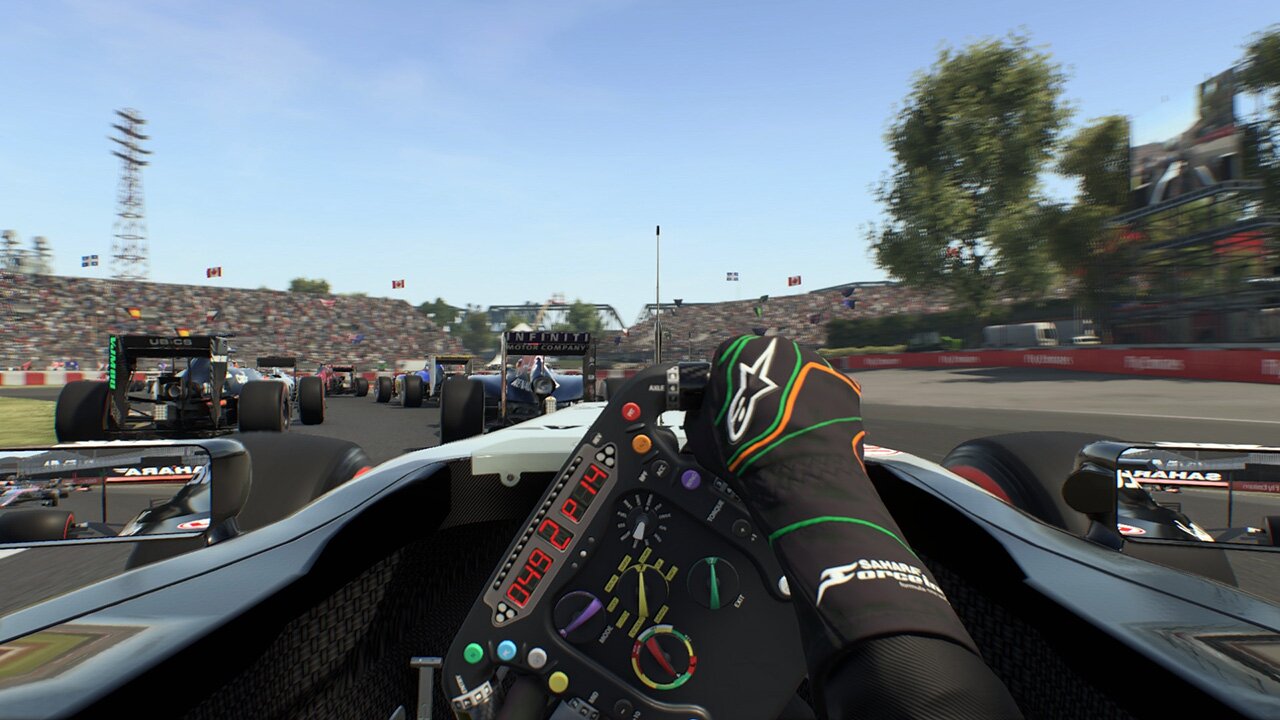 Online mode seems to work fine pre-launch with no problems or bugs. F1 2015 was originally supposed to feature updates which "will deliver 2015 content into the game as the season unfolds, ensuring you'll be competing against the same drivers and teams you watch week in and week out".
Single-player is very thin, the 2014 season is thrown in as a 'bonus' so you can choose between 2014 and 2015 season depending on which team and driver you wish to choose.
F1 2015 has fantastic engineer commentary, with your manager in the pits giving you relevant info of what is happening out on the track and how your tyres are behaving. on the track, what's happening on it, and what you might what to think about during the next part of the race. He'll pick up lap times about how your rival contenders are doing and how many seconds each lap your are losing or possibly gaining. The engine sounds are superb and the gritty engine noises as the cars accelerate could not sound any better, and equally immersive effects for braking and gear changes.
F1 2015 is more than what you would expect from an F1 game, it has one of the best feels we've come across in an open wheel racer, but at the same time it can be tough to catch up with the leader making it a game you really have to fight and think about each corner trying to better each lap. While there are default difficulty settings, you can dial the AI up and down and switch assists in and out making it as easy or as hard as you want it to be.
The most disappointment this year are some features which were introduced for previous editions have now sadly disappeared, such as the Safety Car and the brilliant Classic Mode from F1 2013, reading from various forums fans really wanted a safety car this year and perhaps we can only hope they introduce this with an update soon.
Overall the real reason to pick F1 2015 up is still the way these cars feel to drive, they have never felt better to drive, the sound is flawless and any F1 fan will be satisfied until F12016 is released.