Back in the day basketball games were a very simple and automated experience in which each player stats were the difference between score from anywhere on the court or not, being that there was little that was the user controls in your hands with all and thanks to their valuable participation made his team win the game.
The gameplay is peerless. The graphics are stunning and the physics and collision detection are truly amazing. Your character no longer feels like he has a forcefield when performing jumps and runs. For the first time in the series size really matters. Some nifty analogue and trigger skills will not get you past a bigger opponent with ease. Your point guard will no longer be throwing down dunks in traffic.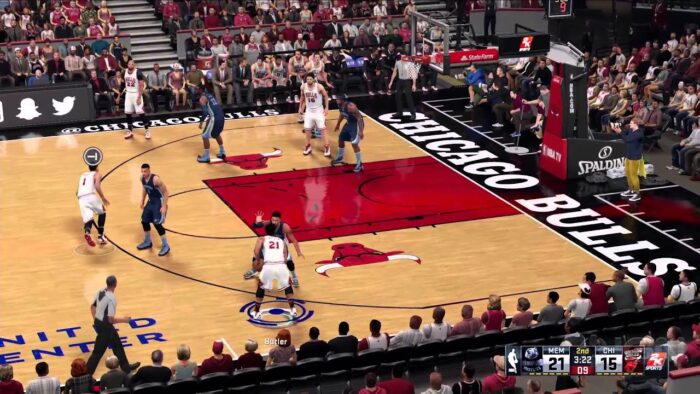 Although it is important 2K Sports will make the game accessible to all players and that is why we are available difficulty levels and a lot of videos and tutorials as part of the 2KU section that teaches you everything you need to know the title.
Unlike other sports, basketball is characterized by its speed, played in that in seconds can turn the marker and that perhaps nothing is said until the moment when the clock reaches indicate remaining zero seconds available. spectacular defensive strong comebacks who do not surrender, three-pointers that change history … are a lot of emotions surrounding a good game of basketball, and believe me having an accurate control movements in your hands It causes even enjoy a casual game after getting tired of working a regular evening a unique experience.
NBA 2k16 gave me a very challenging experience, perhaps more than other sports games on the market. The game comes configured from the start in the Pro difficulty is quite comfortable to have before us a great challenge. There is no longer played by luck or annotations without thinking first disarm the defense rival, which makes every movement and each pass into something completely planned played in your head do not stop with your controls imagine while manage to sneak up to the basket and be sure it's a good situation to score.
My attitude is that if you push me towards something that you think is a weakness, then I will turn that perceived weakness into a strength | Michael Jordan
Direct controls on the ball by pressing R2 + Right Stick or different types of passes by pressing three main control buttons make it your full responsibility to provide accurate passes or cause an interception that damages the marker on your computer.
Why first NBA 2k16 made ​​us think as coach? Perhaps for the advanced analysis system player who immediately placed as the best simulator in sports titles.
As I mentioned in the above lines, in order to realize a basket is necessary to break the defense with a well thought out strategy, so the game goes to not only the execution of movements is what will help you to take the win, but also planning moves.
In addition to expanded and coaches books with actual plays that usually use each of the teams were adjusted, the artificial intelligence of opponents, teammates and coaches also had major adjustments in their favor for each of matches a real challenge for any player.
Each you guess right a basket, you lose the ball, attack, defend, raisins, type of pass you use, the area through which more you usually attack, all these elements are being registered in a database that is used in the game. You can view the log of each of your movements on the top right of the screen and it serves so that the artificial intelligence of the opponents choose strategies that fit much better to break your playing style and make you lose anything.
Any database that is shared with your opponents when playing any online game, so while loading the game will see the x-ray style game person you're going to face what also allows you to choose the plays that best suit counteract overcome their weaknesses and their strengths.
I was surprised by the commitment of an annual sports game to be so thorough in all these details, making away entirely on a casual and arcade experience transforming rather a simulation game that perhaps connoisseurs of basketball or the most advanced in its study will be those who can better appreciate it.
As the burst so fast and furious sport was necessary for the game to run at 60 frames per second, which allows the combination of visual controls that come each year to refine us as a result of a game millimeter precision.
For delivery models this year a lot of players are updated, more than 10,000 were made ​​animations and physical engines were fitted with the new version of the Living World physics engine that takes into account height, weight, accurate dimensions the ball among other things to make the game feel as realistic as possible.
One feature that much this year boasted about MyCareer NBA 2k16 is the way in which the filmmaker Spike Lee was responsible for writing and directing the performance of what is practically a film about the life of a young athlete who enters the universe Basketball. Touch you know his rise in the sporting world since it is a highschool student, allowing you to make decisions like choosing a college and many other aspects of the career of a promising young basketball.
Perhaps most salvageable MyCarreer mode is to create your character which allows you myPlayer again manually or scan model a face with any cameras on your console. This time we have more customization options as tattoos that you can place and climb right where you want it pretty useful tools among other fans surely appreciate.
With your myPlayer well as to participate in the race and train to increase their basic stats you can also enter the MyPark mode where you compete with the avatars of other characters in hotly contested matches for supporting the faction you choose. You can also try your performance in the competitive mode 2K Pro-Am where you cometirás in five games against five MyPlayers with great customization options.
Your character is not the only thing that can then be customized in ways as MyTeam combining administration with a trading card game you have the opportunity to design your own uniforms, logos and many other items.
As always the possibility of creating your league, your own rosters and to support your athletic shoes improve this approach in customizing this year in particular feels much more palpable.
We talked about many developments in terms of gameplay and presentation of the title, they could also miss important additions like fresh content.
In addition to updating all licenses classic NBA 2k16 includes new equipment, and the good thing is that they are not so distant in time but teams that can already be said to have marked the history of the NBA. Twelve new equipment in the last 15 years up the options of the game and join existing equipment, the classic teams already had and European teams.
I quite enjoyed the contents of NBA 2k16 for this year, so I can recommend it widely for all fans burst sport or those who want to learn more of the same. If you have time you will not approach a basketball game, NBA 2k16 It is a great opportunity to do considering that it is a very complete package that can easily be recognized as the market leader of sports games.
With basic adjustments to the gameplay and even more content this year, we are facing a much more intelligent and challenging title that is much closer to the simulation and offers significant advantages to a game with a great track record of its kind.