GTA 5 is a 3D action TPS (third-person shooter) with a large open and interactive game world. Three colorful characters with unique abilities, a classic plot, gang battles, heists, races, shooting … Grand Theft Auto has become a classic of the genre, to which you can return again and again. GTA money drop potential makes the game experience even more attractive and promising. Just imagine that you can have as much money as you want in the blink of an eye. Won't it expand your possibilities in the game to unimaginable limits?
Gameplay specifics
In the fifth part of the series, bank robbery comes out to the fore, even as the main goal. This is the key reason for appearing new game elements:
organizing and planning robberies;
search for vehicles and weapons;
manual selection of a team;
a choice of a robbery method.
Compared to previous games in the series, raids for bucks have now become much more serious and thoughtful. In addition, now a whole gang is working. Shooting and chases still take up the main share of the gameplay. As in previous games in the series, there will be a lot of shootouts and dizzying races. They, one might say, glue all plot dialogues and events together. The tasks, of course, became more diverse. There are also many mini-games like sports events, racing, household entertainment, and the like.
At the same time, interaction with the game world offers a lot more. There are a lot of interactive objects in GTA 5 like cafes, restaurants, gas stations, all kinds of shops, hairdressers, strip clubs, gun shops, etc. In a big city, there is always something to do, and Grand Theft Auto Five has made even more progress.
City, game world and its possibilities
Los Santos is a big city, enormously big. In size, it exceeds the town from the previous part (GTA 4) several times, and the island itself is more than seven times larger than the previous RockStar creation. Moreover, in addition to the city itself, there is an equally impressive suburb as a neighboring state.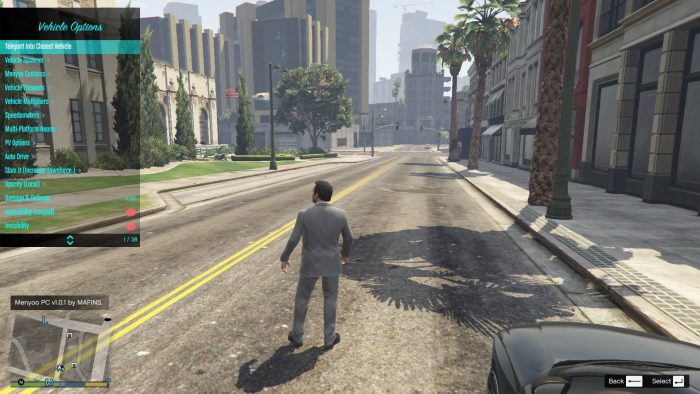 And most importantly, the new scale did not affect the quality of the scenery, which is essential. Every corner, every nook, and every street is now truly unique. Even seemingly completely useless locations, where a player will never appear, are processed as qualitatively as everyone else. There is no longer a standard carbon copy of filling the space with faceless identical structures and objects. All cafes, restaurants, shops, hotels, banks, and even residential buildings now have unique facades and their own design.
Moreover, the fifth part has made some progress in terms of realistic simulation of the life of the city and its inhabitants. Pedestrians are a little smarter, not as much progress since GTA 4, but still. They now have more animation, which allows you to well recreate a variety of scenes from everyday life, be it playing sports, fishing, or barbecuing. They sit on benches, chatting about something, arguing, sometimes swearing.
The game has its own Internet, with online stores, e-mail, and more. The ideas of the fourth part were not developed further, although now you can buy a bunch of everything via the Internet, even a tank. However, this all is rather an addition. There, in principle, you can not look throughout the entire game. Rare tasks, mostly additional ones, will require you to visit the worldwide network. The phone has the same features as before: camera, saving, connection with online services, and, of course, negotiations with game characters. The phone is actively used in the game as you can even detonate explosives with it.