he Golf Club Collectors Edition is a golf game developed by HB Studios available on the Xbox One, and Playstation 4. We managed to get our hands on the Xbox One version.
The collectors Edition main feature is a new season mode featuring five complete Tour levels, a brand new Tropical Theme to add to the eight existing environments, and a gorgeous collectible e-book with course design insights from expert golfers, the game brings an exquisitely detailed and realistic golfing experience to console.
HB Studios are the first to release a next gen golf game and I was very keen to see how it compared to previous golf games. The game looks fantastic and shows off the next gen consoles really well. The moment you start the game you are presented with a menu layout system that is quite basic but gives you the options to either take on single matches by yourself, start up your own tournament, or create your own course. The player is entitled to pick up 1-4 controllers in house and have golf battles, challenge friends, or prove your golfing skills online.
A Great Golf Sim Finally Has Arrived For Serious Golf Fans
The first thing anyone will notice is just how quick it is to pick up the controller and jump into a round of golf. From the start menu you can select "Tee off" and away you go on a randomly selected course. Before you know it you will be sinking your first birdie put before the kettle has even boiled.
If you have a friend online playing a course, you will get a notification at the side of the UI, and pressing the options button on the Playstation controller will drop you straight into that same course. What's really nice here is that your friend might be a few holes ahead of you, but because the whole course is loaded you will occasionally see their shot being played in the distance.
If none of your friends are playing online, you can set up to play against their ghost, or the ghost of any player that has played the course. Pit yourself against the player with the record score and see their shots as you go. You don't ever see other player models, just the path of their shots and the ball itself. Don't like one of the rivals? You can switch them out mid round. The only nuisance here is that you are playing online, even when nobody else is live, so if your connection drops you will be kicked out of the round, unless you leave it sitting there until the connection comes back. However, you can go and play an offline round and once your connection is back you can jump straight back in to where you were. The commentator even welcomes you back.
To hit the perfect golf shot, a swing is performed simply by pulling back and pushing forward on one of the thumbsticks, much like in EA's PGA Tour games. One thing I did notice is when you hit the perfect golf shot the sweet crisp sound really is satisfying. Obviously if you hit a huge cut into the woodland then the golf strike sound is not so good.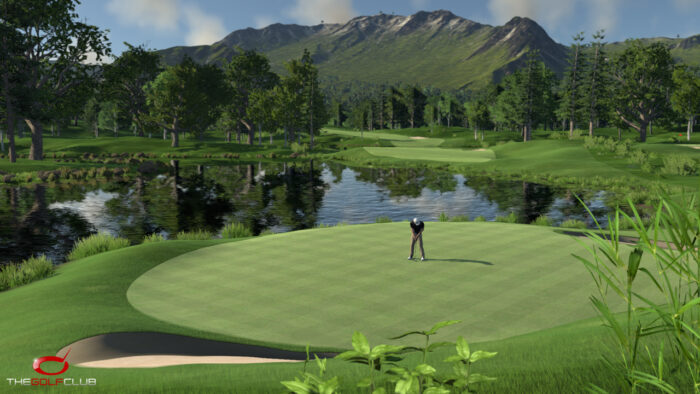 There's no controlling spin mid-shot, applying magical boosts to your drive, or seeing the projected path of your putt before hitting it. Instead, you have to rely on your experience, gut instinct and true skill.
Putting works in the same fashion as hitting a driver, pull back and then forward to take the shot. On the green or on the fairway, moving forward and a bit to the left or right will slice or hook the ball. You need to be extra careful as putting can be tough, afterall the game of golf is all about the short game.
You can see an overview of the course as you begin, but sadly you are unable to do a fly-over on a hole like in other golf games. From your vantage point you can see where the pin is, and you can use your eyeballs to spot hazards and the like. You get a reasonable idea of where your ball will go after lining it up and selecting your club.
On top of the standard courses on offer, The Golf Club offers a Greg Norman AKA The Shark branded course creator.  Build your dream golf course from placing bunkers to wildlife around your course. The course creator is also useful for designing courses that will later on  unlock a multitude of the game's achievements.
Creating a course is simple. Choose a theme such as Alpine, Urban or desert, like how many trees you want planted, how much water, and how many hills you'd like your course to have, and you have your dream golf course built in a few minutes.
Placing bunkers in locations that will catch fellow golfers out has to be very satisfying, repositioning flags, and adding geological features such as rocks and trees throughout the course is enough to add a personal touch and make the course feel as though it was designed by a human mind. This can be done in under half an hour.